Every online store wants to increase traffic and conversions. But even after you've put together a basic strategy it can still be challenging to decide on which marketing tactics you should try.
We all know it is not enough to be throwing money at your Facebook ads without putting in the work so here are 5 easy ways to start with in order to optimize your Facebook campaigns:
1. Use Multi-Product Ads
Facebook Multi-product ads give you the ability to show multiple products in a single ad.
Using Multi-product ads give your customers more options to choose from. They can help you increase conversions, the more relevant products a customer sees the greater the chance of them buying. You can also use them to show the different benefits of a single product.
Multi-product ads can easily be set up in the Power Editor and can also be used as part of a dynamic product ad campaign or as a stand-alone ad.
2. Find New Customers with Lookalike Audiences
Facebook can help you to find new customers based on your past customers' characteristics. Lookalike Audiences help you advertise to people who are similar to your existing customers and likely to be interested in your products as well.
To create a Lookalike Audience you need a Custom Audience to base it on. Alternatively, you could also build it from your Facebook Fans or data from the conversion-tracking pixel.
Lookalike Audiences will utilize Facebook's algorithms to find people with similar demographic characteristics and interests to your customers.
Of course, you can also use Facebook's other interests and demographic targeting options to find relevant new customers but we strongly recommend using a free tool called Facebook Ads Hidden Interest, it will save you time and money, and remove a lot of uncertainties.
To find a smaller and more focused audience for your ad, test your ads using different interests. When you find the right combination of lookalike audience and interest, you'll have a more targeted audience and reduce the cost per click/conversion.
3. Use the Must Also Match Feature
Several experiments in different categories and industries have shown that adding "must also match" interests leads to a more engaged audience and reduces click/conversion costs by up to 25%.
For example, if you choose Twitter as interest and Social Media Marketing as a "must also match" interest, it will work better than choosing both interests as usual or just one interest.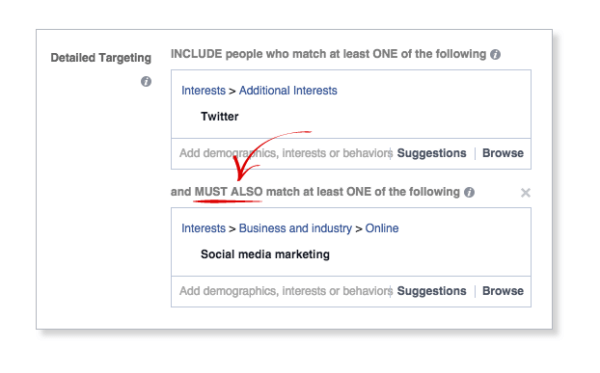 To test what works for you, change the interest in the Must Also Match at Least One of the Following box. Try adding two or three interests, and keep close tabs to see if your conversion rates improve. If not, you went one interest too far.
4. Exclude Website Visitors
Unless your ad campaign is specifically targeting existing customers, don't waste your advertising dollars on people who are already loyal to you. You can exclude certain demographics or audiences with specific interests.
To do this, first, install the Facebook pixel in your online store. This pixel will build a Facebook audience from people who have already visited your blog. Then exclude all visitors to your blog in the Custom Audiences section. Choose a custom audience you've built or an existing lookalike audience.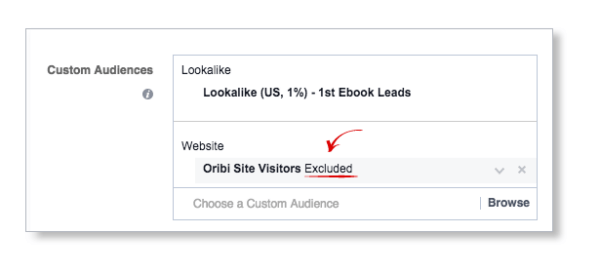 5. Segment Your Audience by Browser
Users' browser types can also reveal a lot about them, allowing you to better target high-converting audiences.
Some products appeal more to Chrome users, while others appeal more to Safari users, for example. Unless you're targeting late adopters or a senior audience, select all browsers other than Internet Explorer. This typically will improve every aspect of your campaign results.